Service Work
Don't be left in the dark.
Electrical wires can be dangerous to work with, especially if you don't have proper training and experience. Allow the Meyers experts to take care of your electrical project for you. We make it easy by providing 1-hr. service calls, in-person estimates, and (when necessary) we'll even coordinate with the power company. Meyers has the insight and resources needed to maintain, install and repair your business or home's electrical work. Don't be left in the dark – call Meyers today!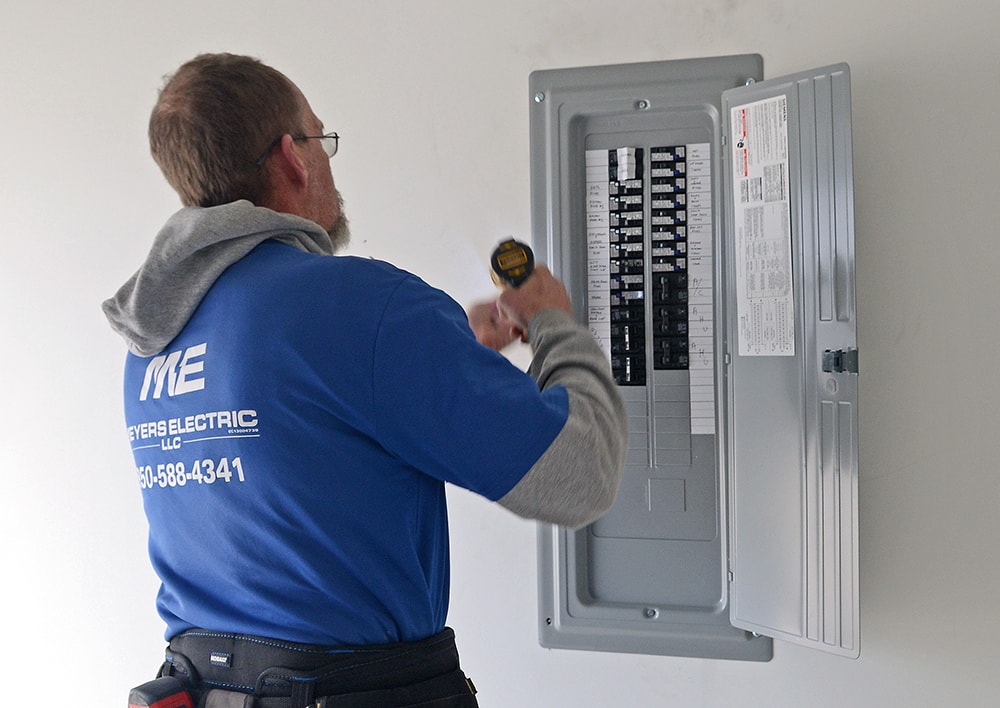 Electrical services throughout the Panhandle –
For nearly 20 years, Meyers Electric has been a trusted name for electrical services throughout the Panhandle. Our expert electricians have the knowledge and experience necessary to get the job done right the first time. We can help you maintain your home's electrical systems or repair a blown fuse. With Meyers Electric on the job, you can rest assured you're in good hands.
Contact us to schedule a service call or to consult with one of our electricians in Panama City Beach, Destin, Mexico Beach, or anywhere in the Panhandle area!
Why trust Meyers for your project?
Our professionals are neat and clean
We use innovative technology & methods
Our electricians are continuously trained
We are fully licensed, bonded and insured
Our electricians are friendly, respectful, & reliable
At Meyers Electric, we offer a wide range of service work and repairs to meet all your needs. Whether you need work done in your kitchen, bathroom, attic, or office – – – our crew can handle it.
We've Helped Thousands of Customers
The Meyer's team has a reputation of being knowledgeable, professional, and friendly. Get it done right – – – the first time.
The service technician that installed our light fixtures was very professional and knowledgeable. He kept a tidy work area and made sure each fixture was at the desired height!!!
Nick and his partner worked with me to get my electrical mast replaced. He ran with the process of permitting, and getting the mast replaced as soon as I gave him the date the power company was going to kill power to my house. The mast was replaced on time, on budget, and passed inspection. The power company even commented on the great install work. They will be the first ones I call if I ever need electrical work again!
Service tech Tai was prompt and professional. Our shop looks modern and is much safer with the added light. Meyers Electric designed and installed our shop lighting.
Dani and his crew did so well I've suggested them to four other people. Meyers Electric really understands the full benefit of a great customer experience. Thanks guys for your hard work on our projects!